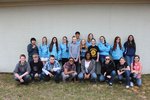 The 2014-2015 Westwood Singers including Boy Band's Marcus Pendelton
Boy Band on ABC
Marcus Pendelton was a Westwood Singer all three years at WMS. The Westwood Music Department and the Westwood Family as a whole are proud to see him representing Middle Tennessee on NATIONAL TELEVISION.
From the Daily News Journal:
"Riverdale High School student Marcus Pendleton will appear as a contestant on ABC's newest show, "Boy Band," which premieres at 7 p.m. Thursday.
The 16-year-old Middle Tennessee native, known professionally as K-MARZZZ, is one of 30 contestants who will battle it out to become a member of the next big music sensation.
And for the first time ever, viewers at home will vote for their favorite five band members, live, creating a group America can call its own.
British pop star RIta Ora is the show's host. Industry professionals who are judging include record producer Timbaland, Backstreet Boys' Nick Carter, and Spice Girls' Emma Bunton.
You can follow Pendleton at K-MARZZ on Facebook and YouTube, and K_MARZZZ on Instagram."
More on http://www.dnj.com/story/news/2017/06/22/murfreesboro-teen-competes-boy-band/419162001/